Run and raise money at the TCS Amsterdam Marathon

Start your fundraiser

Run against cancer during the TCS Amsterdam Marathon. Individually or in a team of friends or colleagues. You can participate in two ways:

1) Register with KWF. Raise the minimum sponsorship amount of 500 euro before August 20th and KWF rewards you with a free ticket and the Run against cancer-shirt. You have until Oct 1st to redeem your vouchercode for a free ticket!

2) Buy your own ticket. Create a fundraising page and start raising money. If you raise at least 500 euro you will be rewarded with our unique Run against cancer-shirt! If you don't raise the 500 euro in time, you can buy your own ticket for the TCS Amsterdam Marathon.

Share your fundraiser

The more people you engage, the faster you will reach your goal. Fill your action page with your personal story and use Facebook, Twitter, LinkedIn, Instagram and WhatsApp to share your action. This way the news that you are raising money for cancer research will spread quickly! You'll be surprised at the number of people who will help you reach your goal.

Celebrate

Achieved your target amount? Great! Feel like raising the bar even higher? Increase your goal and raise even more funds. Together we can create hope instead of hopelessness for everyone that is affected by cancer.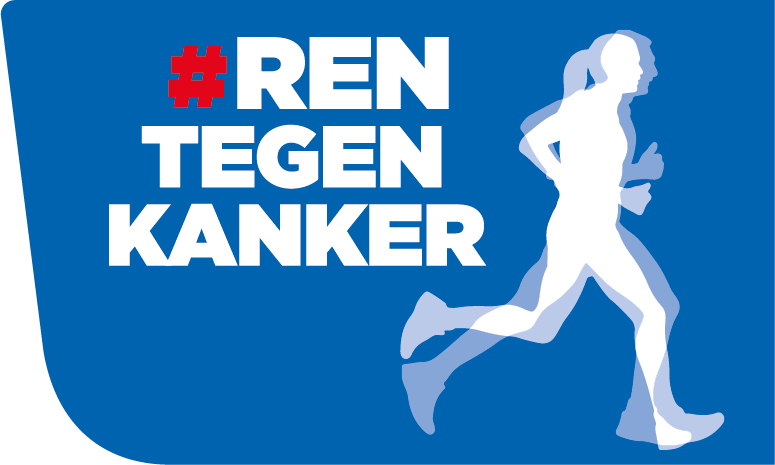 On Sunday October 20th 2024 the 48th edition of the TCS Amsterdam Marathon will take place. This international marathon is known for its flat and attractive course with many highlights through our capital. Run through the passage of the iconical Rijksmuseum, past the Amstel and finish in the beautiful and historic Olympic Stadium. Choose between the classic 42km, the Half Marathon or 8 km. Run against cancer and for life during the TCS Amsterdam Marathon!
1 in 2 people in the Netherlands develop cancer in their lifetime. Whether you have it yourself. Or someone you care about. Cancer unbalances your life.
Turn despair into power.
These participants ran against cancer in last years edition of the TCS Amsterdam Marathon. All with their own stories. Who are you running for?
"I decided to join Run Against Cancer when my mother's cancer suddenly returned after more than 10 years. In 2021 it turned out there was a tumor on her vertebra: a metastasis of the breast cancer from 2007. Unfortunately, the Utrecht marathon, in which I was supposed to run, was postponed. In return for my sponsors, I still ran the half marathon in March 2022. Not aware that I was actually already sick myself..."
Read Danique's (32) testimonial
"There are six majors in the marathon world: Boston, New York, Chicago, Berlin, London and Tokyo. My father, Stefan, ran the first four. Unfortunately, the last two never happened. It is my goal to run these majors for him before I reach the age of 30. To start my journey, I am running my first marathon in my hometown Amsterdam"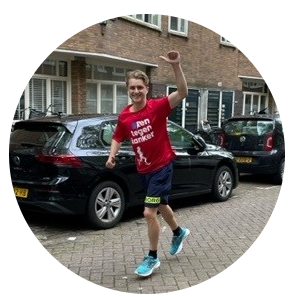 Experience Run against Cancer
Over 1.1 million euro's. That was on the cheque for the Cancer Center Amsterdam in 2023. An amazing contribution to ground-breaking cancer research. Raised by hundreds of Run Against Cancer participants during the TCS Amsterdam Marathon. "These amounts make exactly the difference for us," says Jan Paul Medema of Cancer Center Amsterdam, "it allows us to do this kind of research." Run against cancer champions: THANK YOU!
More patients to benefit from new treatments
Participants in the TCS Amsterdam Marathon contribute to research at the Amsterdam UMC Cancer Center Amsterdam. For the edition of 2022 and 2023 the proceeds went to an important project to have more patient benefit from new treatment methods. To make that happen, they set up a large-scale research network. This way, more patients get earlier access to the latest treatments. We will inform you on this page about the research selected for 2024's edition.
Prof. dr. Kazemier of the Cancer Center Amsterdam
Together we can make a difference with or without cancer
By mobilising volunteers, activists and talents
we make the most of the power of our community. Together, we make a difference for a better life without and with cancer.
By campaigning about prevention, research and fundraising
we keep all stakeholders aware of the causes and consequences of cancer.
By making strong alliances and partners
we create support and strengthen our position in society.
By focusing on groundbreaking cancer research
we strive for results that really make a difference.
It starts with you

and your friends

who together raise funds for

less cancer

more cures

and a better quality of life

Together against cancer

KWF Dutch Cancer Society


We are very happy to have you as a fundraiser. Because together with our campaigners, KWF can make a difference. For everyone affected by cancer. Being able to live life as much as possible. We do everything together to achieve that.
Many people are devoted to KWF. We gratefully make use of the power of our community.
Need help with your fundraising page?
Send us an email via rentegenkanker@kwf.nl or call during office hours: +31 20 5700570.
We'd love to help!