My Achievements
Foto's toegevoegd
Actiepagina gemaakt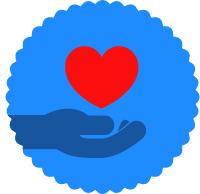 Aan eigen actie gedoneerd
Vijf donaties ontvangen
Streefbedrag behaald
Streefbedrag verhoogd
Vermelding op Wall of fame
Emails verstuurd
Gedeeld op social media
Donateurs bedankt
My Updates
English Version
Friday 2nd Sep
Why the Way of St. James?
I knew very early on that I loved nature, adventure and challenges. I gained my first experiences as a
 scout. Whether on canoe trips, the classic hiking or just camping. After I climbed Toubkal, the highest mountain in North Africa, in 2019, I knew - I want this kind of physical challenge more often. To rise above myself and be proud. Shortly after this experience, I met a woman in Schwerin, Germany, who told me about her pilgrimage from the Camino de Santiago. Her story had inspired me so much that I decided to try this kind of journey someday. Due to personal circumstances and Corona, the project took a back seat and was somewhat forgotten.
Through Louis and his aunt, this topic became very topical again and we decided to start the pilgrimage together - but not in the classic sense of pilgrimage, but very typical Dutch - by bike.
We will start together in Amsterdam on September 9th and will be accompanied by Louis' father and his sister Aag in Spain for a part of the journey.
Why KWF?
After Louis father and his brother Max participated in the Alp d'Huzes in June and collected donations for cancer research for KWF, we got inspired an came up with the idea to start our own campaign and combine it with our trip.
When I was younger, I had a glimpse that my grandmother had black skin cancer. Fortunately everything turned out well and the cancer could be fought. Since Louis has been in direct contact with this topic several times, his sister who died early of leukemia and his mother who was diagnosed with breast cancer a few years ago, it was clear for both of us. We are also raising funds for KWF to help others and support cancer research - will you help us reach our goal?
If you would like to follow our journey, please check out this page:
Share
Warum Jakobsweg - Warum KWF?
Friday 22nd Jul
Warum Jakobsweg?
Dass ich die Natur, Abenteuer und Herausforderungen liebe, das wusste ich schon sehr früh. Erste Erfahrungen sammelte ich als Pfadfinderin. Ob bei Kanufahrten, das klassische Wandern oder nur zelten. Nachdem ich 2019 den Toubkal, den höchsten Berg Nordafrikas, bestieg- wusste ich – solche Art von physischer Herausforderung möchte ich öfter. Über mich selbst hinauswachsen und stolz sein. Kurz nach dieser Erfahrung habe ich in Schwerin eine Frau kennengelernt, die mir von ihrer Pilgerreise vom Jakobsweg erzählte. Ihre Geschichte hatte mich so inspiriert, dass ich mir vornahm diese Art von Reise irgendwann auch auszuprobieren. Durch persönliche Umstände und Corona ist das Vorhaben in den Hintergrund gerückt und etwas in Vergessenheit geraten.
Durch Louis und seine Tante wurde dieses Thema nun wieder sehr aktuell und wir entschlossen uns die Pilgerreise gemeinsam anzutreten – aber nicht im klassischen Sinne des Pilgerns, sondern ganz typisch Dutch – und zwar mit dem Fahrrad.
Wir starten am 09. September gemeinsam in Amsterdam und werden von Louis Vater und seiner Schwester Aag in Spanien für einen Teilabschnitt begleitet.
Warum KWF?
Nachdem im Juni Louis Vater und sein Bruder Max an der Alp d'Huzes teilnahmen und für KWF Spenden für die Krebsforschung sammelten, kamen wir auf die Idee eine eigene Kampagne zu starten und dies mit unserem Trip zu verbinden.
Ich selbst habe als ich jünger war flüchtig mitbekommen, dass meine Oma schwarzen Hautkrebs hatte. Es ging zum Glück alles gut aus und der Krebs konnte bekämpft werden. Da vor allem aber Louis schon mehrmals im direkten Kontakt mit dieser Thematik stand, seine Schwester die früh an Leukämie verstarb und seine Mutter die vor ein paar Jahren die Diagnose Brustkrebs bekam, war es für uns beide klar. Wir sammeln auch spenden für KWF um anderen zu helfen und die Krebsforschung zu unterstützen – helft ihr uns mit unser Ziel zu erreichen?
Wenn ihr unsere Reise verfolgen wollt schaut auch gerne hier vorbei :
https://louisdebruijn.com/pilgrimage/

Share
Thank you to my Sponsors Kurt Siegfried Schaller Fabi
Hoang Anh Dang Nina De Bruijn Lilli Kristina Kaden Susanne- Kaden Deborah Warta Martijn Sonneveldt Larissa Magdanz Maya Spangenberg Paula Zuehlke
Marion Sara Van Der Zwan Wiebke Peters Claudio Melanie Holbeck Ariane Janssen Anonymous
Nicole Und Joey Dinosaurus Oma Dicky Lange Lange Pia Holbeck